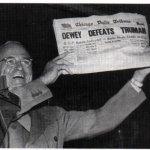 News Channel by
NetRunner


The News channel is for:

1. Videos covering a topic being discussed by the news media at the time of posting.

2. Videos of past news coverage of events (e.g. Dan Rather covering 9/11, or videos that qualified for #1 a year ago).

3. Videos about the news media itself, discussing its bias, its influence, its history, its future, etc.
---
Top Videos from the Last 24 Hours
---
Look closely. I don't think that's arabic...
posted by gorillaman

2 days 1 hour 26 minutes ago

•

375 views

• 1:52
A video from the National Space Society celebrating the near (3 weeks from now) flyby of Pluto's system. The video concludes that with the exploration of Pluto and the Kuiper Belt that the first era of planetary exploration is now complete. Time to get on with the next.
posted by nanrod

4 days 19 hours 42 minutes ago

•

228 views

• 2:53