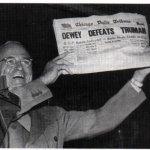 News Channel by
NetRunner


The News channel is for:

1. Videos covering a topic being discussed by the news media at the time of posting.

2. Videos of past news coverage of events (e.g. Dan Rather covering 9/11, or videos that qualified for #1 a year ago).

3. Videos about the news media itself, discussing its bias, its influence, its history, its future, etc.
---
Top Videos from the Last 24 Hours
---
Sorry, but we couldn't find any records to display for this listing.
Use the navigation menu above to figure out where to go from here, or...